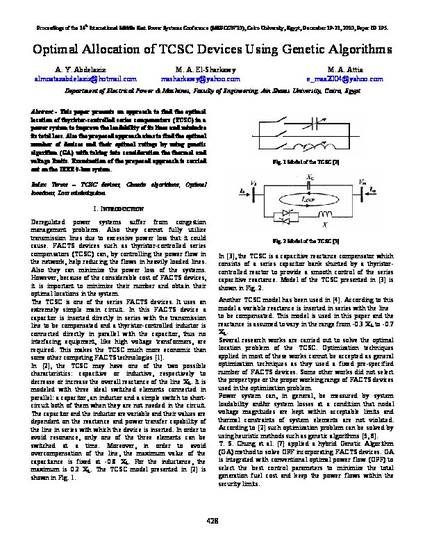 Article
Optimal Allocation of TCSC Devices Using Genetic Algorithms
Proceedings of the 14th International Middle East Power Systems Conference (MEPCON'10), Cairo University, Egypt, December 19-21, 2010 (2010)
Abstract
This paper presents an approach to find the optimal location of thyristor-controlled series compensators (TCSC) in a power system to improve the loadability of its lines and minimize its total loss. Also the proposed approach aims to find the optimal number of devices and their optimal ratings by using genetic algorithm (GA) with taking into consideration the thermal and voltage limits. Examination of the proposed approach is carried out on the IEEE 9-bus system.
Publication Date
December, 2010
Citation Information
Almoataz Youssef Abdelaziz. "Optimal Allocation of TCSC Devices Using Genetic Algorithms"
Proceedings of the 14th International Middle East Power Systems Conference (MEPCON'10), Cairo University, Egypt, December 19-21, 2010
(2010)
Available at: http://works.bepress.com/almoataz_abdelaziz/19/