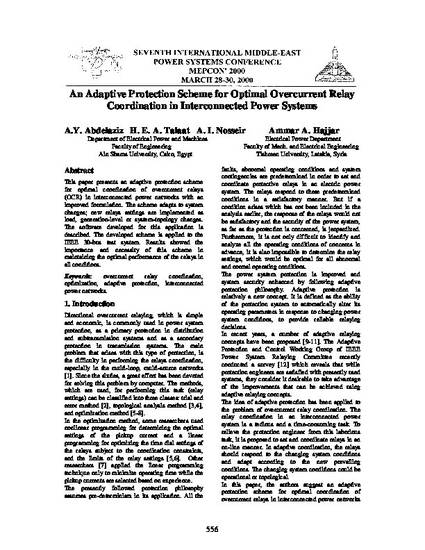 Article
An Adaptive Protection Scheme for Optimal Overcurrent Relay Coordination in Interconnected Power Systems
Proceedings of the Seventh International Middle-East Power Systems Conference MEPCON'2000, Ain Shams University, Egypt, March 2000 (2000)
Abstract
This paper presents an adaptive protection scheme for optimal coordination of overcurrent relays (OCR) in interconnected power networks with an improved formulation. The scheme adapts to system changes; new relays settings are implemented as load, generation-level or system-topology changes. The software developed for this application is described. The developed scheme is applied to the IEEE 30-bus test system. Results showed the importance and necessity of this scheme in maintaining the optimal performance of the relays in all conditions.
Publication Date
March, 2000
Citation Information
Almoataz Youssef Abdelaziz. "An Adaptive Protection Scheme for Optimal Overcurrent Relay Coordination in Interconnected Power Systems"
Proceedings of the Seventh International Middle-East Power Systems Conference MEPCON'2000, Ain Shams University, Egypt, March 2000
(2000)
Available at: http://works.bepress.com/almoataz_abdelaziz/10/