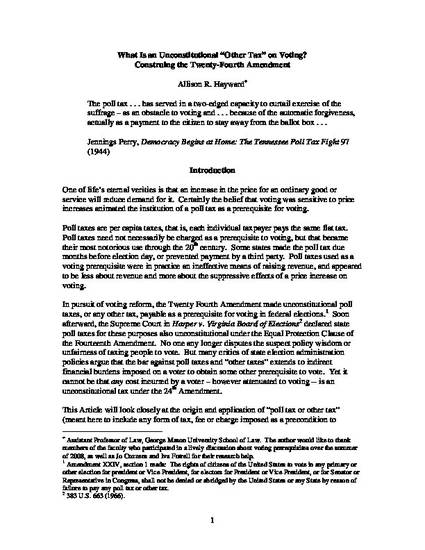 Unpublished Paper
What Is an Unconstitutional "Other Tax" on Voting? Construing the Twenty-Fourth Amendment
ExpressO (2008)
Abstract
This Article looks closely at the 24th Amendment and the origin and application of "poll tax or other tax" (meant here to include any form of tax, fee or charge imposed as a precondition to voting), the history of anti-poll tax reform, the intended scope of such reforms, and suggest a way to decide what voting prerequisites could be unconstitutional "poll taxes." The analysis in this Article isolates the question of defining "poll tax or other tax" under the 24th Amendment from what constitutes a severe burden or a "reasonable" requirement in equal protection doctrine. The 24th Amendment should be understood as a separate source of authority. It contains a flat prohibition on such taxes. Potentially, the 24th Amendment is a more stable and resilient source of protection. This issue is of great salience presently as states explore additional election administration measures, for example voter identification requirements, that may involve individual voter expense. But the question of what constitutes an "other tax" reaches beyond the voter identification debate. Local revenue streams may become burdened by greater demands for election-day technology, expertise, and litigation. Meanwhile economic conditions could pinch government budgets. One should expect states and localities to seek additional ways of shifting the costs associated with elections onto others, even onto voters. A principled rule that can identify permissible forms such cost shifting might take, and flag potentially unconstitutional "tax" burdens, would be a useful tool for policymakers, and the lawyers and judges who will inevitably be called upon to evaluate the scope of unconstitutional taxes or fees that present some kind of hurdle or prerequisite for voting.
Keywords
poll tax,
voting rights,
twenty-fourth amendment,
civil rights
Publication Date
September 15, 2008
Citation Information
Allison Hayward. "What Is an Unconstitutional "Other Tax" on Voting? Construing the Twenty-Fourth Amendment"
ExpressO
(2008)
Available at: http://works.bepress.com/allison_hayward/6/