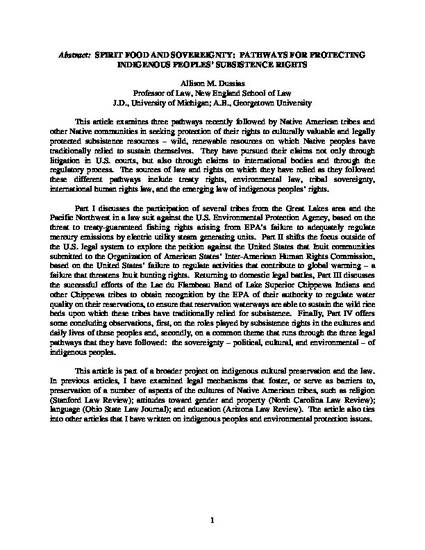 Unpublished Paper
Spirit Food and Sovereignty: Pathways for Protecting Indigenous Peoples' Subsistence Rights
ExpressO (2009)
Abstract
Abstract: SPIRIT FOOD AND SOVEREIGNTY: PATHWAYS FOR PROTECTING INDIGENOUS PEOPLES' SUBSISTENCE RIGHTS
By Professor Allison M. Dussias
This article examines three pathways recently followed by Native American tribes and other Native communities in seeking protection of their rights to culturally valuable and legally protected subsistence resources – wild, renewable resources on which Native peoples have traditionally relied to sustain themselves. They have pursued their claims not only through litigation in U.S. courts, but also through claims to international bodies and through the regulatory process. The sources of law and rights on which they have relied as they followed these different pathways include treaty rights, environmental law, tribal sovereignty, international human rights law, and the emerging law of indigenous peoples' rights.
Part I discusses the participation of several tribes from the Great Lakes area and the Pacific Northwest in a law suit against the U.S. Environmental Protection Agency, based on the threat to treaty-guaranteed fishing rights arising from EPA's failure to adequately regulate mercury emissions by electric utility steam generating units. Part II shifts the focus outside of the U.S. legal system to explore the petition against the United States that Inuit communities submitted to the Organization of American States' Inter-American Human Rights Commission, based on the United States' failure to regulate activities that contribute to global warming – a failure that threatens Inuit hunting rights. Returning to domestic legal battles, Part III discusses the successful efforts of the Lac du Flambeau Band of Lake Superior Chippewa Indians and other Chippewa tribes to obtain recognition by the EPA of their authority to regulate water quality on their reservations, to ensure that reservation waterways are able to sustain the wild rice beds upon which these tribes have traditionally relied for subsistence. Finally, Part IV offers some concluding observations, first, on the roles played by subsistence rights in the cultures and daily lives of these peoples and, secondly, on a common theme that runs through the three legal pathways that they have followed: the sovereignty – political, cultural, and environmental – of indigenous peoples.
This article is part of a broader project on indigenous cultural preservation and the law. In previous articles, I have examined legal mechanisms that foster, or serve as barriers to, preservation of a number of aspects of the cultures of Native American tribes, such as religion (Stanford Law Review); attitudes toward gender and property (North Carolina Law Review); language (Ohio State Law Journal); and education (Arizona Law Review). The article also ties into other articles that I have written on indigenous peoples and environmental protection issues.
Keywords
indigenous peoples,
Clean Water Act,
climate change,
treaty,
tribe,
inter-american commission of human rights,
mercury regulation
Publication Date
October 23, 2009
Citation Information
Allison M Dussias. "Spirit Food and Sovereignty: Pathways for Protecting Indigenous Peoples' Subsistence Rights"
ExpressO
(2009)
Available at: http://works.bepress.com/allison_dussias/1/