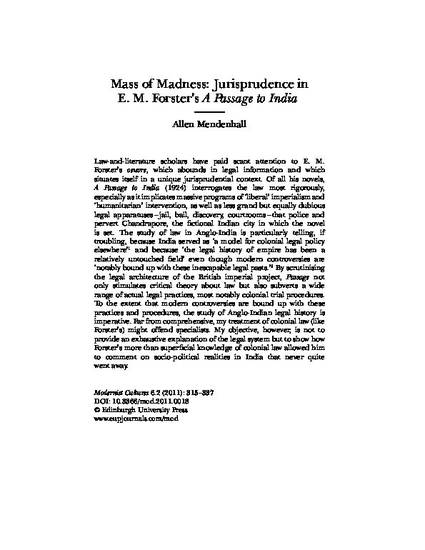 Article
'Mass of Madness': Jurisprudence in E.M. Forster's A Passage to India
Modernist Cultures (2011)
Abstract
Law-and-literature scholars have paid scant attention to E. M. Forster's oeuvre, which abounds in legal information and which situates itself in a unique jurisprudential context. Of all his novels, A Passage to India (1924) interrogates the law most rigorously, especially as it implicates massive programs of 'liberal' imperialism and 'humanitarian' intervention, as well as less grand but equally dubious legal apparatuses – jail, bail, discovery, courtrooms – that police and pervert Chandrapore, the fictional Indian city in which the novel is set. The study of law in Anglo-India is particularly telling, if troubling, because India served as 'a model for colonial legal policy elsewhere' and because 'the legal history of empire has been a relatively untouched field' even though modern controversies are 'notably bound up with these inescapable legal pasts.' By scrutinizing the legal architecture of the British imperial project, Passage not only stimulates critical theory about law but also subverts a wide range of actual legal practices, most notably colonial trial procedures. To the extent that modern controversies are bound up with these practices and procedures, the study of Anglo-Indian legal history is imperative. Far from comprehensive, my treatment of colonial law (like Forster's) might offend specialists. My objective, however, is not to provide an exhaustive explanation of the legal system but to show how Forster's more than superficial knowledge of colonial law allowed him to comment on socio-political realities in India that never quite went away. .
Keywords
Jurisprudence,
Law-and-Literature,
E.M. Forster,
Postcolonialism,
Colonialism,
A Passage to India,
India,
Law
Citation Information
Allen P Mendenhall. "'Mass of Madness': Jurisprudence in E.M. Forster's A Passage to India"
Modernist Cultures
Vol. 6 Iss. 2 (2011)
Available at: http://works.bepress.com/allen_mendenhall/10/