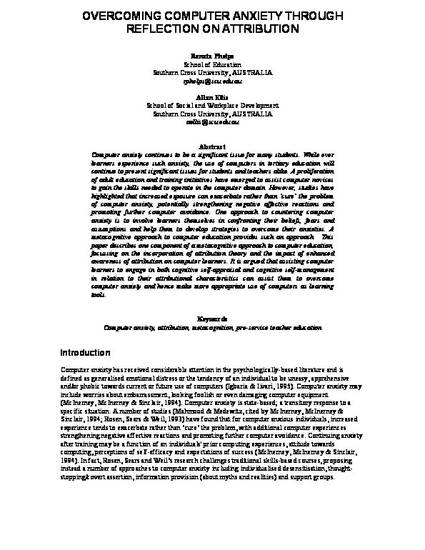 Presentation
Overcoming computer anxiety through reflection on attribution
Winds of change in the sea of learning: charting the course of digital education: ASCILITE 2002
Document Type
Conference publication
Publication Date
1-1-2002
Abstract
Computer anxiety continues to be a significant issue for many students. While ever learners experience such anxiety, the use of computers in tertiary education will continue to present significant issues for students and teachers alike. A proliferation of adult education and training initiatives have emerged to assist computer novices to gain the skills needed to operate in the computer domain. However, studies have highlighted that increased exposure can exacerbate rather than 'cure' the problem of computer anxiety, potentially strengthening negative affective reactions and promoting further computer avoidance. One approach to countering computer anxiety is to involve learners themselves in confronting their beliefs, fears and assumptions and help them to develop strategies to overcome their anxieties. A metacognitive approach to computer education provides such an approach. This paper describes one component of a metacognitive approach to computer education, focussing on the incorporation of attribution theory and the impact of enhanced awareness of attribution on computer learners. It is argued that assisting computer learners to engage in both cognitive self-appraisal and cognitive self-management in relation to their attributional characteristics can assist them to overcome computer anxiety and hence make more appropriate use of computers as learning tools.
Citation Information
Phelps, R & Ellis, A 2002, 'Overcoming computer anxiety through reflection on attribution', in A Williamson, C Gunn, A Young & T Clear (eds), Winds of change in the sea of learning: charting the course of digital education: proceedings of the 19th Annual Conference of the Australasian Society for Computers in Learning in Tertiary Education (ASCILITE): 8-11 December 2002, UNITEC Institute of Technology, Auckland, NZ, vol. 2, pp. 515-524.