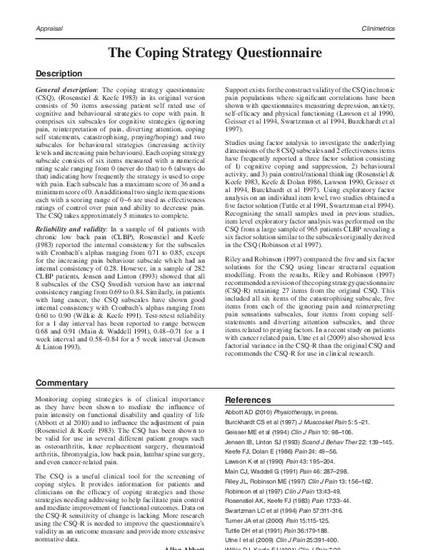 Article
The coping strategy questionnaire
Journal of Physiotherapy (2010)
Abstract
Extract:
General description: The coping strategy questionnaire (CSQ), (Rosenstiel & Keefe 1983) in its original version consists of 50 items assessing patient self rated use of cognitive and behavioural strategies to cope with pain. It comprises six subscales for cognitive strategies (ignoring pain, reinterpretation of pain, diverting attention, coping self statements, catastrophising, praying/hoping) and two subscales for behavioural strategies (increasing activity levels and increasing pain behaviours). Each coping strategy subscale consists of six items measured with a numerical rating scale ranging from 0 (never do that) to 6 (always do that) indicating how frequently the strategy is used to cope with pain. Each subscale has a maximum score of 36 and a minimum score of 0. An additional two single item questions each with a scoring range of 0–6 are used as effectiveness ratings of control over pain and ability to decrease pain. The CSQ takes approximately 5 minutes to complete.
Publication Date
March 1, 2010
Citation Information
Allan Abbott. "The coping strategy questionnaire"
Journal of Physiotherapy
Vol. 56 Iss. 1 (2010)
Available at: http://works.bepress.com/allan_abbott/5/