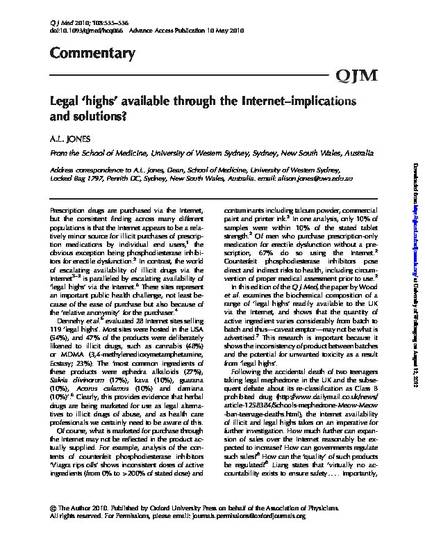 Article
Legal 'highs' available through the internet-implications and solutions?
Graduate School of Medicine - Papers (Archive)
Publication Date
1-1-2010
Abstract
Prescription drugs are purchased via the Internet, but the consistent finding across many different populations is that the Internet appears to be a relatively minor source for illicit purchases of prescription medications by individual end users, the obvious exception being phosphodiesterase inhibitors for erectile dysfunction. In contrast, the world of escalating availability of illicit drugs via the Internet is paralleled by escalating availability of 'legal highs' via the Internet. These sites represent an important public health challenge, not least because of the ease of purchase but also because of the 'relative anonymity' for the purchaser.
Citation Information
Alison L Jones. "Legal 'highs' available through the internet-implications and solutions?" (2010) p. 535 - 536
Available at: http://works.bepress.com/alison_jones/54/