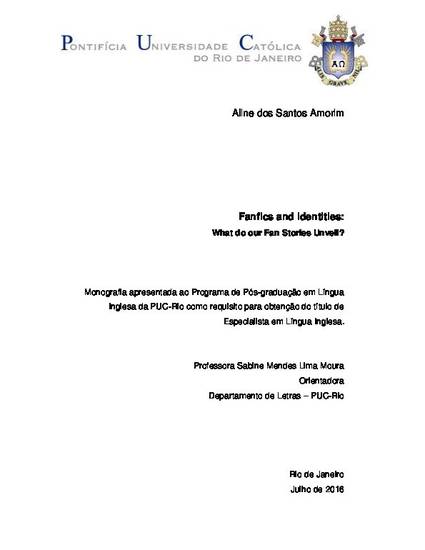 Book
Fanfics and Identities: What do our Fan Stories Unveil? (MONOGRAPH - NOT REVISED)
(2016)
Abstract
This monograph was shaped with the objective of understanding how identities arise from fan fictions produced by high school students from a public institution in Rio de Janeiro, Colégio Estadual Compositor Luiz Carlos da Vila, after introducing the genre at school as a Pop, creative and personal resource to stimulate English learning. Sections include theory background on Applied Linguistics, Reflective Teaching, Fan Fiction and Identity; methodology include the collection of interviews after the presentations of eleven outstanding stories based on Universal Studios' Jurassic World, collected throughout the months of November and December of 2015, respectively. Fan fiction writers try to portray characters' identities, but they can also portray personal experiences in stories, borrowing elements from their own lives. This dialogic phenomenon is present in all the analyzed stories, and it may be noticed in other texts related to the genre.
Keywords
Applied linguistics,
creative writing,
fan fiction,
identities,
pop culture.
Publication Date
Summer July 1, 2016
Citation Information
Amorim, Aline dos Santos; Moura, SML. (Advisor). 'Fanfics and Identities: What do our Fan Stories unveil?'. Rio de Janeiro, 2016, p. Monograph – Departamento de Letras, Pontifícia Universidade Católica do Rio de Janeiro.