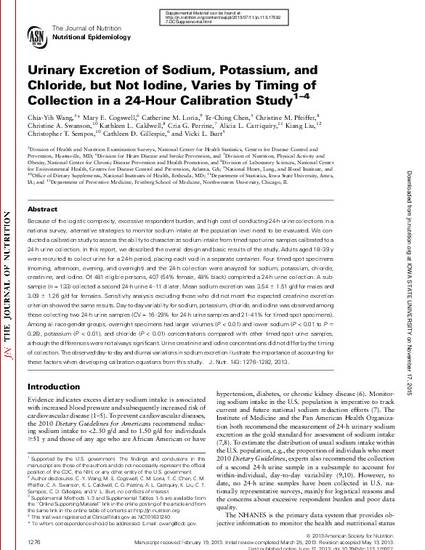 Article
Urinary Excretion of Sodium, Potassium, and Chloride, but Not Iodine, Varies by Timing of Collection in a 24-Hour Calibration Study
Journal of Nutrition
Publication Version
Published Version
Publication Date
1-1-2013
DOI
10.3945/jn.113.175927
Abstract
Because of the logistic complexity, excessive respondent burden, and high cost of conducting 24-h urine collections in a national survey, alternative strategies to monitor sodium intake at the population level need to be evaluated. We conducted a calibration study to assess the ability to characterize sodium intake from timed-spot urine samples calibrated to a 24-h urine collection. In this report, we described the overall design and basic results of the study. Adults aged 18–39 y were recruited to collect urine for a 24-h period, placing each void in a separate container. Four timed-spot specimens (morning, afternoon, evening, and overnight) and the 24-h collection were analyzed for sodium, potassium, chloride, creatinine, and iodine. Of 481 eligible persons, 407 (54% female, 48% black) completed a 24-h urine collection. A subsample (n = 133) collected a second 24-h urine 4–11 d later. Mean sodium excretion was 3.54 6 1.51 g/d for males and 3.09 6 1.26 g/d for females. Sensitivity analysis excluding those who did not meet the expected creatinine excretion criterion showed the same results. Day-to-day variability for sodium, potassium, chloride, and iodine was observed among those collecting two 24-h urine samples (CV = 16–29% for 24-h urine samples and 21–41% for timed-spot specimens). Among all race-gender groups, overnight specimens had larger volumes (P < 0.01) and lower sodium (P < 0.01 to P 5 0.26), potassium (P < 0.01), and chloride (P < 0.01) concentrations compared with other timed-spot urine samples, although the differences were not always significant. Urine creatinine and iodine concentrations did not differ by the timing of collection. The observed day-to-day and diurnal variations in sodium excretion illustrate the importance of accounting for these factors when developing calibration equations from this study.
Rights
Works produced by employees of the U.S. Government as part of their official duties are not copyrighted within the U.S. The content of this document is not copyrighted.
File Format
application/pdf
Citation Information
Chia-Yih Wang, Mary E. Cogswell, Catherine M. Loria, Te-Ching Chen, et al.. "Urinary Excretion of Sodium, Potassium, and Chloride, but Not Iodine, Varies by Timing of Collection in a 24-Hour Calibration Study"
Journal of Nutrition
Vol. 143 Iss. 8 (2013) p. 1276 - 1282
Available at: http://works.bepress.com/alicia_carriquiry/33/