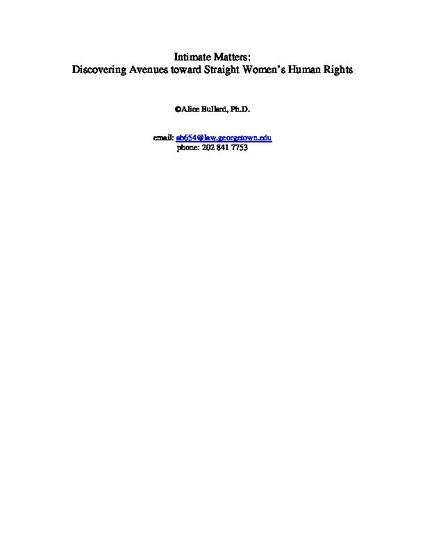 Unpublished Paper
Intimate Matters: Discovery Avenues Towards Straight Women's Human Rights
ExpressO (2012)
Abstract
"Intimate Matters: Discovering Avenues toward Straight Women's Human Rights" © Alice Bullard, Ph.D., J.D. expected May 2012 email: ab654@law.georgetown.edu Abstract: This paper demonstrates the need, and the legal right under international human rights law to support, for developing and teaching intimate strategies for women's emancipation. The international human rights agenda largely overlooks heterosexual sex is a facet of women's subjugation; we argue here to correct that oversight, to integrate an understanding of the potential of heterosexual sex to (re)produce women's subordination, and to sketch a program to combat this tendency. At issue is not overt sexual violence or sexual acts deemed illegal for one reason or another, but rather the broad spectrum of lawful sex between men and women. Obligations under international human rights law are analyzed, and the United States and Afghanistan are used as examples for the types of state obligations that ensue under international law to support intimate strategies for emancipation.
Keywords
human rights,
sexuality,
women,
international
Publication Date
February 10, 2012
Citation Information
Alice Bullard. "Intimate Matters: Discovery Avenues Towards Straight Women's Human Rights"
ExpressO
(2012)
Available at: http://works.bepress.com/alice_bullard/1/