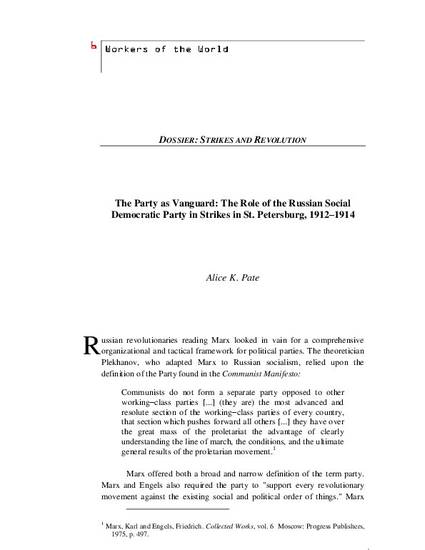 Article
The Party as Vanguard: The Role of the Russian Social Democratic Party in Strikes in St. Petersburg, 1912-1914
WORKERS OF THE WORLD - INTERNATIONAL JOURNAL ON STRIKES AND SOCIAL CONFLICT (2012)
Abstract
Russian revolutionaries reading Marx looked in vain for a comprehensive organizational and tactical framework for political parties. The theoretician Plekhanov, who adapted Marx to Russian socialism, relied upon the definition of the Party found in the Communist Manifesto: Communists do not form a separate party opposed to other working–class parties [...] (they are) the most advanced and resolute section of the working–class parties of every country, that section which pushes forward all others [...] they have over the great mass of the proletariat the advantage of clearly understanding the line of march, the conditions, and the ultimate general results of the proletarian movement.
Publication Date
June, 2012
Citation Information
Alice Pate. "The Party as Vanguard: The Role of the Russian Social Democratic Party in Strikes in St. Petersburg, 1912-1914"
WORKERS OF THE WORLD - INTERNATIONAL JOURNAL ON STRIKES AND SOCIAL CONFLICT
Vol. 1 Iss. 1 (2012) p. 6 - 18
Available at: http://works.bepress.com/alice-pate/9/