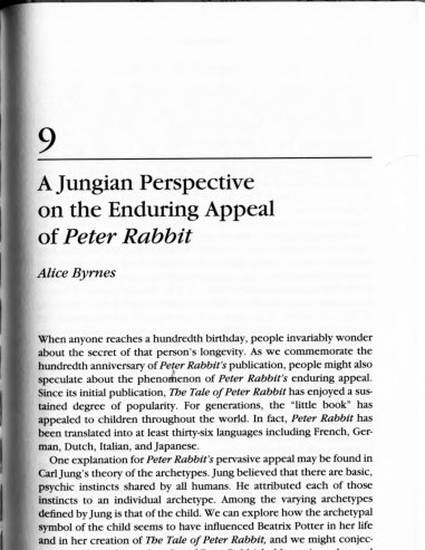 Contribution to Book
A Jungian Perspective on the Longevity of Peter Rabbit
Beatrix Potter's Peter Rabbit: A Children's Classic at 100
Document Type
Book Chapter
Publication Date
1-1-2002
Publisher's Statement
All rights reserved Rowman & Littlefield. Please contact the publisher for permission to copy, distribute or reprint. Full acknowledgment is made of the original publication stating the specific material reused: Pages 131 - 143, A Jungian Perspective on the Longevity of Peter Rabbit by Alice Byrnes, in Beatrix Potter's Peter Rabbit: A Children's Classic at 100 edited by Margaret Mackey, 2002, reproduced by permission of Rowman & Littlefield https://rowman.com/
Abstract
When anyone reaches a hundredth birthday, people invariably wonder about the secret of that person's longevity. As we commemorate the hundredth anniversary of Peter Rabbit's publication, people might also speculate about the phenomenon of Peter Rabbit's enduring appeal. Since its initial publication. The Tale of Peter Rabbit has enjoyed a sustained degree of popularity. For generations, the "little book" has appealed to children throughout the world. In fact, Peter Rabbit has been translated into at least thirty-six languages including French, German, Dutch, Italian, and Japanese. One explanation for Peter Rabbit's pervasive appeal may be found in Carl Jung's theory of the archetypes. Jung believed that there are basic, psychic instincts shared by all humans. He attributed each of those instincts to an individual archetype. Among the varying archetypes defined by Jung is that of the child. We can explore how the archetypal symbol of the child seems to have influenced Beatrix Potter in her life and in her creation of The Tale of Peter Rabbit, and we might conjecture how the archetypal quality of Peter Rabbit holds a universal appeal for readers of all ages.
Citation Information
Alice Byrnes. "A Jungian Perspective on the Longevity of Peter Rabbit"
Beatrix Potter's Peter Rabbit: A Children's Classic at 100
(2002)
Available at: http://works.bepress.com/alice-byrnes/23/