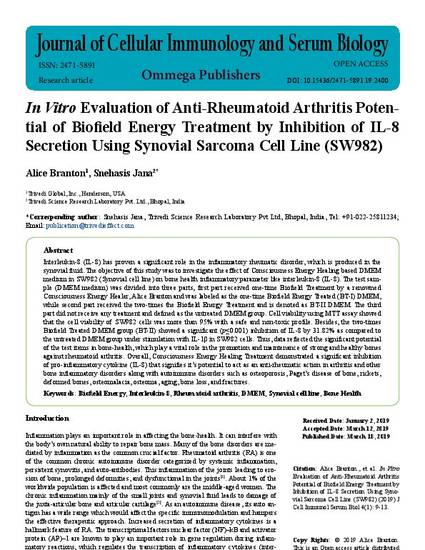 Article
In Vitro Evaluation of Anti-Rheumatoid Arthritis Potential of Biofield Energy Treatment by Inhibition of IL-8 Secretion Using Synovial Sarcoma Cell Line (SW982)
Journal of Cellular Immunology and Serum Biology (2019)
Abstract
Interleukin-8 (IL-8) has proven a significant role in the inflammatory rheumatic disorder, which is produced in the synovial fluid. The objective of this study was to investigate the effect of Consciousness Energy Healing based DMEM medium in SW982 (Synovial cell line) on bone health inflammatory parameter like interleukin-8 (IL-8). The test sam-ple (DMEM medium) was divided into three parts, first part received one-time Biofield Treatment by a renowned Consciousness Energy Healer, Alice Branton and was labeled as the one-time Biofield Energy Treated (BT-I) DMEM, while second part received the two-times the Biofield Energy Treatment and is denoted as BT-II DMEM. The third part did not receive any treatment and defined as the untreated DMEM group. Cell viability using MTT assay showed that the cell viability of SW982 cells was more than 95% with a safe and non-toxic profile. Besides, the two-times Biofield Treated DMEM group (BT-II) showed a significant (p≤0.001) inhibition of IL-8 by 31.82% as compared to the untreated DMEM group under stimulation with IL-1β in SW982 cells. Thus, data reflected the significant potential of the test items in bone-health, which play a vital role in the promotion and maintenance of strong and healthy bones against rheumatoid arthritis. Overall, Consciousness Energy Healing Treatment demonstrated a significant inhibition of pro-inflammatory cytokine (IL-8) that signifies it's potential to act as an anti-rheumatic action in arthritis and other bone inflammatory disorders along with autoimmune disorders such as osteoporosis, Paget's disease of bone, rickets, deformed bones, osteomalacia, osteoma, aging, bone loss, and fractures.
Source:
Keywords
Biofield Energy,
Interleukin-8,
Rheumatoid arthritis,
DMEM,
Synovial cell line,
Bone Health
Publication Date
March 18, 2019
DOI
10.15436/2471-5891.19.2400
Citation Information
Alice Branton., et al. In Vitro Evaluation of Anti-Rheumatoid Arthritis Potential of Biofield Energy Treatment by Inhibition of IL-8 Secretion Using Synovial Sarcoma Cell Line (SW982) (2019) J Cell Immunol Serum Biol 4(1): 9-13.
Creative Commons license
This work is licensed under a Creative Commons CC_BY International License.