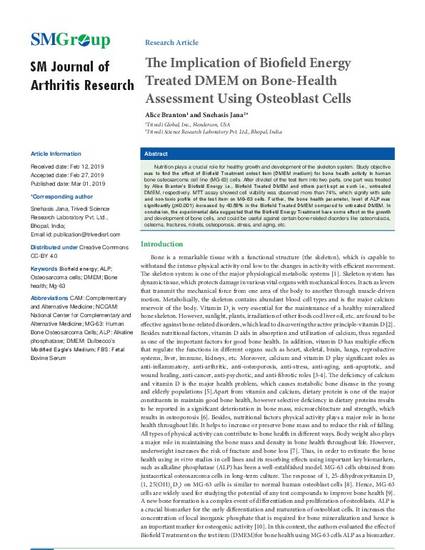 Article
The Implication of Biofield Energy Treated DMEM on Bone‐Health Assessment Using Osteoblast Cells
SM Journal of Arthritis Research (2019)
Abstract
Nutrition plays a crucial role for healthy growth and development of the skeleton system. Study objective was to find the effect of Biofield Treatment ontest item (DMEM medium) for bone health activity in human bone osteosarcoma cell line (MG-63) cells. After divided of the test item into two parts, one part was treated by Alice Branton's Biofield Energy i.e., Biofield Treated DMEM and others part kept as such i.e., untreated DMEM, respectively. MTT assay showed cell viability was observed more than 74%, which signify with safe and non-toxic profile of the test item on MG-63 cells. Further, the bone health parameter, level of ALP was significantly (p≤0.001) increased by 40.58% in the Biofield Treated DMEM compared to untreated DMEM. In conclusion, the experimental data suggested that the Biofield Energy Treatment have some effect on the growth and development of bone cells, and could be useful against certain bone-related disorders like osteomalacia, osteoma, fractures, rickets, osteoporosis, stress, and aging, etc.
Source:
Keywords
Biofield energy,
ALP,
Osteosarcoma cells,
DMEM,
Bone health,
Mg-63
Publication Date
March 1, 2019
Citation Information
Branton A and Jana S. The Implication of Biofield Energy Treated DMEM on Bone-Health Assessment Using Osteoblast Cells. SM J Arthritis Res. 2019; 3(1): 1007.
Creative Commons license
This work is licensed under a Creative Commons CC_BY International License.