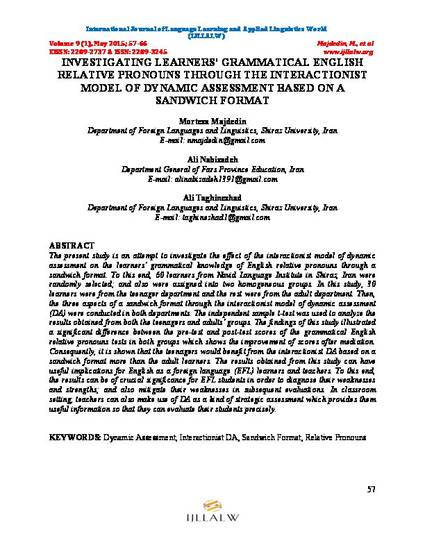 Article
INVESTIGATING LEARNERS' GRAMMATICAL ENGLISH RELATIVE PRONOUNS THROUGH THE INTERACTIONIST MODEL OF DYNAMIC ASSESSMENT BASED ON A SANDWICH FORMAT
International Journal of Language Learning and Applied Linguistics World (IJLLALW) (2015)
Abstract
ABSTRACT The present study is an attempt to investigate the effect of the interactionist model of dynamic assessment on the learners' grammatical knowledge of English relative pronouns through a sandwich format. To this end, 60 learners from Navid Language Institute in Shiraz, Iran were randomly selected; and also were assigned into two homogeneous groups. In this study, 30 learners were from the teenager department and the rest were from the adult department. Then, the three aspects of a sandwich format through the interactionist model of dynamic assessment (DA) were conducted in both departments. The independent sample t-test was used to analyze the results obtained from both the teenagers and adults' groups. The findings of this study illustrated a significant difference between the pre-test and post-test scores of the grammatical English relative pronouns tests in both groups which shows the improvement of scores after mediation. Consequently, it is shown that the teenagers would benefit from the interactionist DA based on a sandwich format more than the adult learners. The results obtained from this study can have useful implications for English as a foreign language (EFL) learners and teachers. To this end, the results can be of crucial significance for EFL students in order to diagnose their weaknesses and strengths; and also mitigate their weaknesses in subsequent evaluations. In classroom setting, teachers can also make use of DA as a kind of strategic assessment which provides them useful information so that they can evaluate their students precisely.
Citation Information
Ali Taghinezhad. "INVESTIGATING LEARNERS' GRAMMATICAL ENGLISH RELATIVE PRONOUNS THROUGH THE INTERACTIONIST MODEL OF DYNAMIC ASSESSMENT BASED ON A SANDWICH FORMAT"
International Journal of Language Learning and Applied Linguistics World (IJLLALW)
(2015)
Available at: http://works.bepress.com/ali_taghinezhad/4/