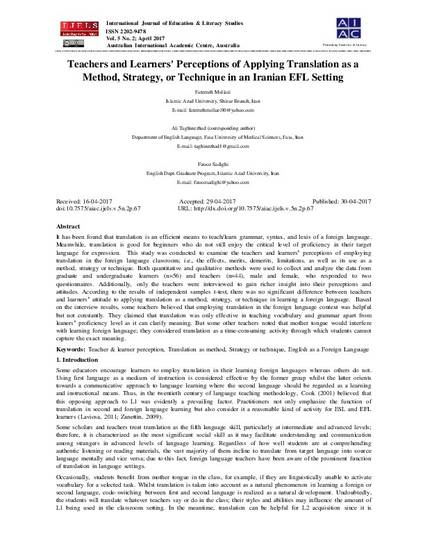 Article
3407-7314-1-SM.pdf
International Journal of Education & Literacy Studies (2017)
Abstract
It has been found that translation is an efficient means to teach/learn grammar, syntax, and lexis of a foreign language. Meanwhile,  translation  is good  for  beginners  who  do not still  enjoy  the critical  level  of proficiency  in their  target language  for expression.   This study was conducted  to examine  the teachers  and learners'  perceptions  of employing translation  in the foreign  language  classroom;  i.e., the effects,  merits,  demerits,  limitations,  as well  as its use as a method, strategy or technique. Both quantitative and qualitative methods were used to collect and analyze the data from graduate   and   undergraduate   learners   (n=56)   and   teachers   (n=44),   male   and   female,   who   responded   to  two questionnaires.   Additionally,   only  the  teachers  were  interviewed  to  gain  richer  insight  into  their  perceptions  and attitudes.  According  to the results of independent  samples t-test, there was no significant  difference  between teachers and learners' attitude to applying translation as a method, strategy, or technique in learning a foreign language.   Based
on the interview results, some teachers believed that employing translation in the foreign language context was helpful but not constantly.  They claimed  that translation  was only effective  in teaching  vocabulary  and grammar  apart from learners' proficiency level as it can clarify meaning. But some other teachers noted that mother tongue would interfere with learning foreign language; they considered translation as a time-consuming  activity through which students cannot capture the exact meaning. 
Keywords
Teacher & learner perception,
Translation as method,
Strategy or technique,
English as a Foreign Language
Publication Date
Spring April 30, 2017
Citation Information
Ali Taghinezhad. "3407-7314-1-SM.pdf"
International Journal of Education & Literacy Studies
(2017)
Available at: http://works.bepress.com/ali_taghinezhad/20/