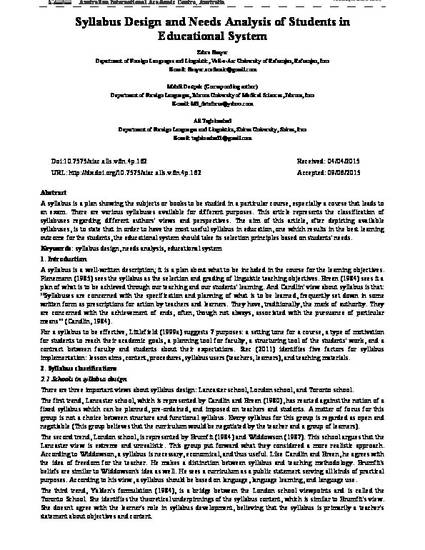 Article
Syllabus Design and Needs Analysis of Students in Educational System
Advances in Language and Literary Studies (2015)
Abstract
Abstract A syllabus is a plan showing the subjects or books to be studied in a particular course, especially a course that leads to an exam. There are various syllabuses available for different purposes. This article represents the classification of syllabuses regarding different authors' views and perspectives. The aim of this article, after depicting available syllabuses, is to state that in order to have the most useful syllabus in education, one which results in the best learning outcome for the students, the educational system should take its selection principles based on students' needs.
Citation Information
Ali Taghinezhad. "Syllabus Design and Needs Analysis of Students in Educational System"
Advances in Language and Literary Studies
(2015)
Available at: http://works.bepress.com/ali_taghinezhad/2/