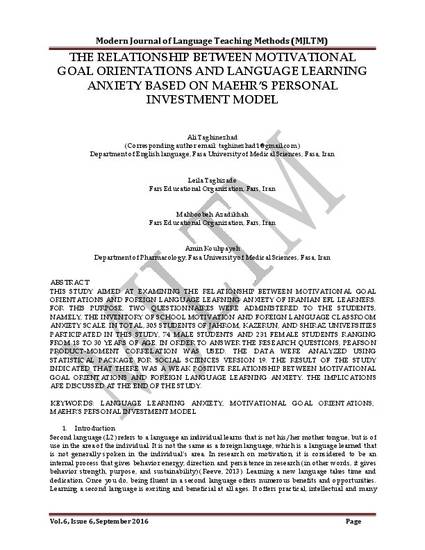 Article
Taghinezhad et al.pdf
Modern Journal of Language Teaching Methods (2016)
Abstract
THIS STUDY AIMED AT  EXAMINING THE  RELATIONSHIP BETWEEN MOTIVATIONAL GOAL
ORIENTATIONS AND FOREIGN LANGUAGE LEARNING ANXIETY OF IRANIAN EFL LEARNERS.
FOR THIS PURPOSE, TWO QUESTIONNAIRES WERE ADMINISTERED TO THE STUDENTS,
NAMELY, THE INVENTORY OF SCHOOL MOTIVATION AND FOREIGN LANGUAGE CLASSROOM
ANXIETY SCALE. IN TOTAL, 305 STUDENTS OF JAHROM, KAZERUN, AND SHIRAZ UNIVERSITIES
PARTICIPATED IN THIS STUDY, 74 MALE STUDENTS AND 231 FEMALE STUDENTS RANGING
FROM 18 TO 30 YEARS OF AGE. IN ORDER TO ANSWER THE RESEARCH QUESTIONS, PEARSON
PRODUCT-MOMENT CORRELATION WAS USED. THE DATA WERE ANALYZED USING
STATISTICAL PACKAGE FOR SOCIAL SCIENCES VERSION 19. THE RESULT OF THE STUDY
INDICATED THAT THERE WAS A WEAK POSITIVE RELATIONSHIP BETWEEN MOTIVATIONAL
GOAL ORIENTATIONS AND FOREIGN LANGUAGE LEARNING ANXIETY. THE IMPLICATIONS
ARE DISCUSSED AT THE END OF THE STUDY. 
Publication Date
September 1, 2016
Citation Information
Ali Taghinezhad. "Taghinezhad et al.pdf"
Modern Journal of Language Teaching Methods
(2016)
Available at: http://works.bepress.com/ali_taghinezhad/17/