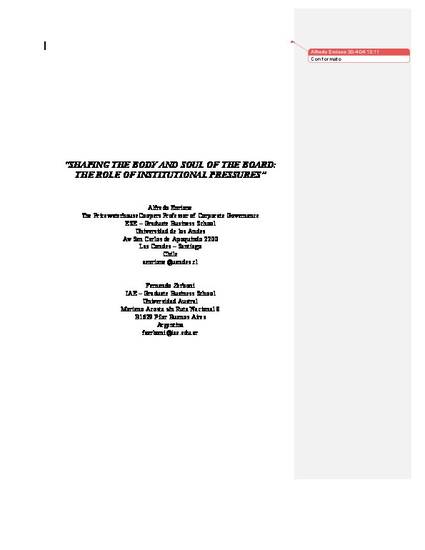 Presentation
Shaping the Body & Soul of the Board: The Role of Institutional Pressures
2nd International Corporate Governance Conference (2004)
Abstract
The world is witnessing a massive and generalized effort to improve the practices within the board of directors. However, there is still little understanding of the processes by which these new practices or models are adopted. Moreover, there is a growing consensus that the most important challenge is improving not only the more structural and visible attributes of the board but the internal dynamics that are much harder to monitor by a third party. This work seeks to bring some light into this discussion by analyzing the role of the environment in the adoption of specific board features. We propose a model that relates the different institutional pressures to the key observable (body) and non-observable (soul) attributes of a board of directors. A number of practical and research recommendations are derived from the model.
Citation Information
Alfredo Enrione and Fernando Zerboni. "Shaping the Body & Soul of the Board: The Role of Institutional Pressures"
2nd International Corporate Governance Conference
(2004)
Available at: http://works.bepress.com/alfredo_enrione/15/