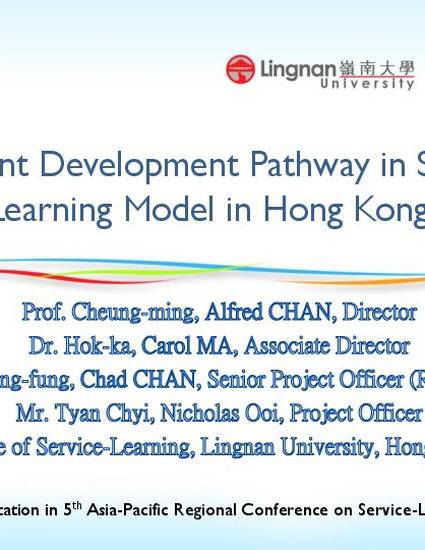 Presentation
A student development pathway in service-learning model in Hong Kong
Asia-Pacific Regional Conference on Service-Learning 亞太地區服務研習會議
Location
MD214, Paul Cardinal Shen Medical Building, Fu Jen University
Start Date
29-5-2015 4:20 PM
End Date
29-5-2015 5:30 PM
Description
The 2-level students 'development pathway is developed in 2014 to further develop LU students as a community leader. First, students will take one or more than one credit-bearing courses with Service-Learning elements to have the basic knowledge of S-L and develop their whole-person development skills. Students reported the significant improvement in 7 learning outcome domains in the result of the pretest and posttest. (e.g. subject-related knowledge, communication skills, social competence, organizational skills, problem-solving skills, research skills and civic orientation). After that, part of the students can continue their Service-Learning Journey in six theme-based leadership training programs (e.g. Mainland and International Service-Learning Program, Service-Learning Teaching Assistant Position (TAP), Service-Learning Project Trainee (PT) Scheme, Service-Leadership Summer Practicum, Young Scholars' Community Research-Based Research Program and Service-Learning Students Association (SLSA)). According to the case study from the six theme-based leadership training programs, students developed their leadership skills through real experience and participation in service-Learning related leadership training programs.
Citation Information
Chan, C.-m. A., Ma, H.-k. C., Chan, W.-f. C., & Ooi, T. C. N. (2015, May). A student development pathway in service-learning model in Hong Kong. Paper presented at the 5th Asia-Pacific Regional Conference on Service-Learning: Love Journey: Community Engagement through Service-Learning, Fu Jen Catholic University, Taiwan.