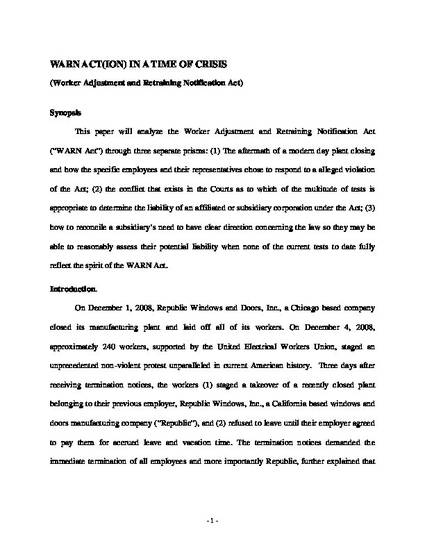 Unpublished Paper
WARN ACT(ION) IN A TIME OF CRISIS
ExpressO (2009)
Abstract
This paper will analyze the Worker Adjustment and Retraining Notification Act ("WARN Act") through three separate prisms: (1) The aftermath of a modern day plant closing and how the specific employees and their representatives chose to respond to a alleged violation of the Act; (2) the conflict that exists in the Courts as to which of the multitude of tests is appropriate to determine the liability of an affiliated or subsidiary corporation under the Act; (3) how to reconcile a subsidiary's need to have clear direction concerning the law so they may be able to reasonably assess their potential liability when none of the current tests to date fully reflect the spirit of the WARN Act.
Publication Date
February 17, 2009
Citation Information
Alfred Benoit. "WARN ACT(ION) IN A TIME OF CRISIS"
ExpressO
(2009)
Available at: http://works.bepress.com/alfred_benoit/1/