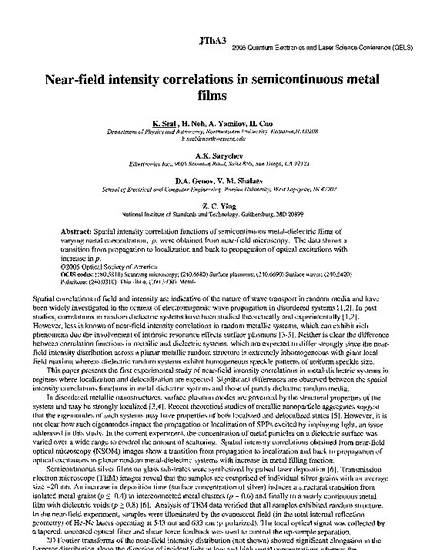 Article
Near-Field Intensity Correlations in Semicontinuous Metal Films
Proceedings of the 2005 Quantum Electronics and Laser Science Conference
Abstract
Spatial intensity correlation functions of semicontinuous metal-dielectric films of varying metal concentration, p, were obtained from near-field microscopy. The data shows a transition from propagation to localization and back to propagation of optical excitations with increase in p.
Meeting Name
2005 Quantum Electronics and Laser Science Conference
Keywords and Phrases
Dielectric Thin Films,
Discontinuous Metallic Thin Films,
Metal Concentration,
Near-Field Intensity Correlations,
Near-Field Microscopy,
Near-Field Scanning Optical Microscopy,
Optical Excitations,
Polaritons,
Semicontinuous Metal-Dielectric Films,
Spatial Intensity Correlation Functions,
Surface Plasmons
Document Type
Article - Conference proceedings
Document Version
Final Version
Rights
© 2005 Institute of Electrical and Electronics Engineers (IEEE), All rights reserved.
Publication Date
1-1-2005
Citation Information
K. Seal, H. Noh, Alexey Yamilov, A. K. Sarchev, et al.. "Near-Field Intensity Correlations in Semicontinuous Metal Films"
Proceedings of the 2005 Quantum Electronics and Laser Science Conference
(2005)
Available at: http://works.bepress.com/alexey-yamilov/20/