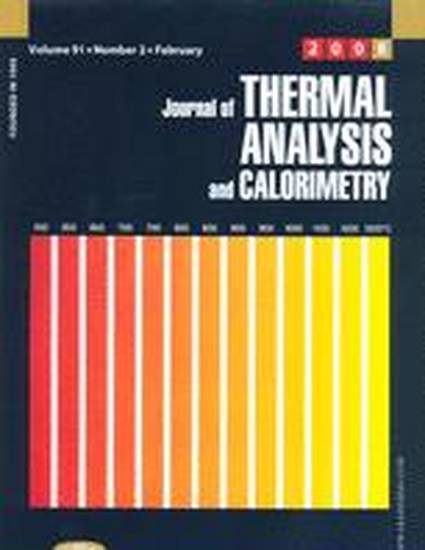 Article
Thermophysical Properties in Medium Temperature Range of Several Thio and Dithiocarbamates
Journal of Thermal Analysis and Calorimetry (2008)
Abstract
The present study reports a DSC study of the thio- and dithiocarbamates: 3H-benzoxazole-2-thione (2-mercaptobenzoxazole), 3H-benzothiazole-2-thione (2-mercaptobenzothiazole), thiazolidine-2-thione (2-mercapto-2-thiazoline), oxazolidine-2-thione (2-mercapto2-oxazoline) and tetrahydro-1,3-oxazine-2-thione (5,6-dihydro-4H-1,3-oxazine-2-thiol) in the temperature interval T=268 K and the melting temperatures. Temperatures, enthalpies and entropies of fusion are reported. No solid–solid phase transitions were observed for the compounds in the temperature interval studied. The heat capacity of the compounds as a function of temperature was measured.
Keywords
dithiocarbamates,
DSC,
fusion enthalpy,
heat capacity,
oxazines,
oxazolines,
thiazolines,
thiocarbamates
Publication Date
February 1, 2008
DOI
10.1007/s10973-007-8345-8
Citation Information
Manuel Temprado, Maria Victoria Roux, Archana R. Parameswar, Alexei V. Demchenko, et al.. "Thermophysical Properties in Medium Temperature Range of Several Thio and Dithiocarbamates"
Journal of Thermal Analysis and Calorimetry
Vol. 91 Iss. 2 (2008) p. 471 - 475
Available at: http://works.bepress.com/alexei-demchenko/95/