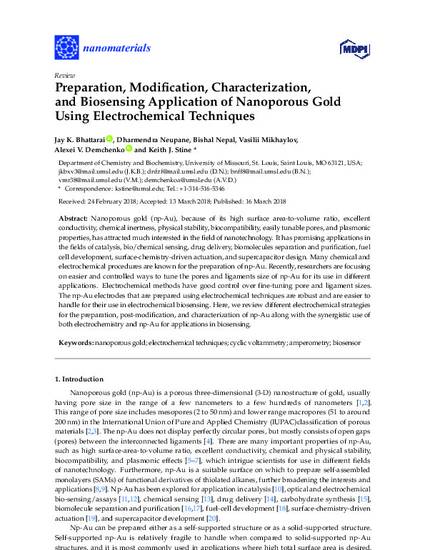 Article
Preparation, Modification, Characterization, and Biosensing Application of Nanoporous Gold Using Electrochemical Techniques
Nanomaterials (2018)
Abstract
Nanoporous gold (np-Au), because of its high surface area-to-volume ratio, excellent conductivity, chemical inertness, physical stability, biocompatibility, easily tunable pores, and plasmonic properties, has attracted much interested in the field of nanotechnology. It has promising applications in the fields of catalysis, bio/chemical sensing, drug delivery, biomolecules separation and purification, fuel cell development, surface-chemistry-driven actuation, and supercapacitor design. Many chemical and electrochemical procedures are known for the preparation of np-Au. Recently, researchers are focusing on easier and controlled ways to tune the pores and ligaments size of np-Au for its use in different applications. Electrochemical methods have good control over fine-tuning pore and ligament sizes. The np-Au electrodes that are prepared using electrochemical techniques are robust and are easier to handle for their use in electrochemical biosensing. Here, we review different electrochemical strategies for the preparation, post-modification, and characterization of np-Au along with the synergistic use of both electrochemistry and np-Au for applications in biosensing.
Publication Date
March 16, 2018
Citation Information
Jay Bhattarai, Dharmendra Neupane, Bishal Nepal, Vasilii Mikhaylov, et al.. "Preparation, Modification, Characterization, and Biosensing Application of Nanoporous Gold Using Electrochemical Techniques"
Nanomaterials
Vol. 8 Iss. 3 (2018) p. 171 - 199
Available at: http://works.bepress.com/alexei-demchenko/5/