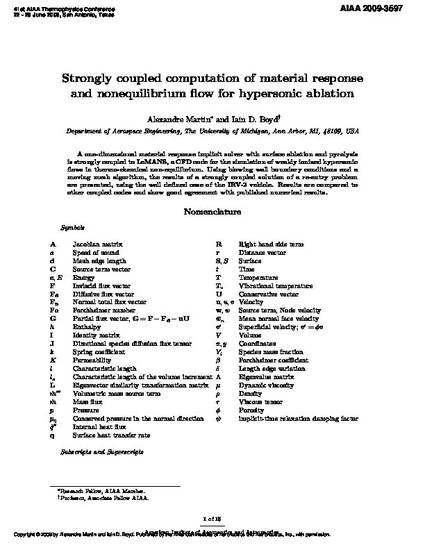 Presentation
Strongly Coupled Computation of Material Response and Nonequilibrium Flow for Hypersonic Ablation
41st AIAA Thermophysics Conference (2009)
Abstract
A one-dimensional material response implicit solver with surface ablation and pyrolysis is strongly coupled to LeMANS, a CFD code for the simulation of weakly ionized hypersonic flows in thermo-chemical non-equilibrium. Using blowing wall boundary conditions and a moving mesh algorithm, the results of a strongly coupled solution of a re-entry problem are presented, using the well defined case of the IRV-2 vehicle. Results are compared to other coupled codes and show good agreement with published numerical results.
Keywords
Coupled computation,
Material response,
Nonequilibrium flow,
Hypersonic ablation
Publication Date
June, 2009
Citation Information
Alexandre Martin and Iain D. Boyd. "Strongly Coupled Computation of Material Response and Nonequilibrium Flow for Hypersonic Ablation"
41st AIAA Thermophysics Conference
(2009)
Available at: http://works.bepress.com/alexandre_martin/19/