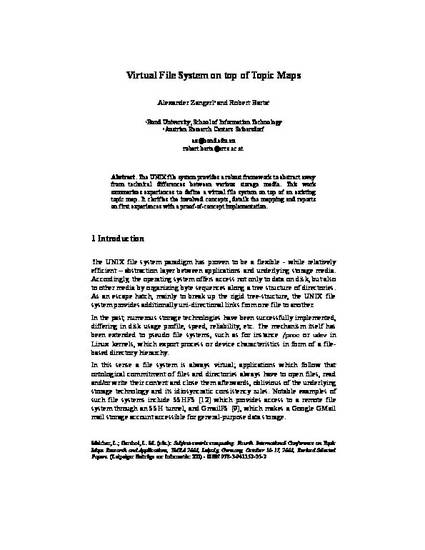 Presentation
Virtual file system on top of topic maps
TMRA 2008 fourth international conference on Topic Maps Research and Applications
Date of this Version
10-17-2008
Document Type
Conference Paper
Abstract
The UNIX file system provides a robust framework to abstract away from technical differences between various storage media. This work summarizes experiences to define a virtual file system on top of an existing topic map. It clarifies the involved concepts, details the mapping and reports on first experiences with a proof-of-concept implementation.
Citation Information
Alexander Zangerl and Robert Barta. "Virtual file system on top of topic maps"
TMRA 2008 fourth international conference on Topic Maps Research and Applications
(2008)
Available at: http://works.bepress.com/alexander_zangerl/2/