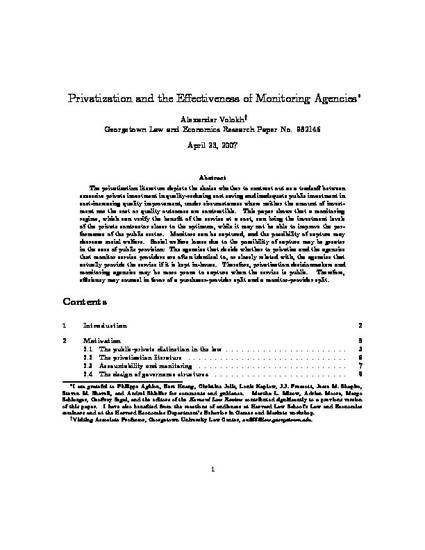 Contribution to Book
Privatization and the Effectiveness of Monitoring Agencies
Georgetown Law and Economics Research Paper No. 982146 (2007)
Abstract
The privatization literature depicts the choice whether to contract out as a tradeoff between excessive private investment in quality-reducing cost saving and inadequate public investment in cost-increasing quality improvement, under circumstances where neither the amount of investment nor the cost or quality outcomes are contractible. This paper shows that a monitoring regime, which can verify the benefit of the service at a cost, can bring the investment levels of the private contractor closer to the optimum, while it may not be able to improve the performance of the public sector. Monitors can be captured, and the possibility of capture may decrease social welfare. Social welfare losses due to the possibility of capture may be greater in the case of public provision: The agencies that decide whether to privatize and the agencies that monitor service providers are often identical to, or closely related with, the agencies that actually provide the service if it is kept in-house. Therefore, privatization decisionmakers and monitoring agencies may be more prone to capture when the service is public. Therefore, efficiency may counsel in favor of a purchaser-provider split and a monitor-provider split.
Keywords
privatization,
incomplete contracts,
moral hazard,
monitoring,
capture,
prisons
Publication Date
March, 2007
Citation Information
Alexander Volokh, Privatization and the Effectiveness of Monitoring Agencies (Georgetown Law and Economics Research Paper No. 982146, April 2007),
available at
http://works.bepress.com/alexander_volokh/5.