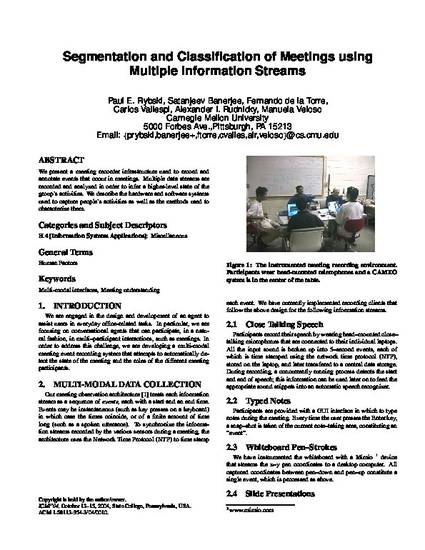 Article
Segmentation and Classification of Meetings Using Multiple Information Streams
Proceedings of the Sixth International Conference on Multimodal Interfaces
Date of Original Version
1-1-2004
Type
Conference Proceeding
Abstract or Description
We present a meeting recorder infrastructure used to record and annotate events that occur in meetings. Multiple data streams are recorded and analyzed in order to infer a higher-level state of the group's activities. We describe the hardware and software systems used to capture people's activities as well as the methods used to characterize them.
Citation Information
Paul E. Rybski, Satanjeev Banerjee, Fernando de la Torre, Carlos Vallespi, et al.. "Segmentation and Classification of Meetings Using Multiple Information Streams"
Proceedings of the Sixth International Conference on Multimodal Interfaces
(2004)
Available at: http://works.bepress.com/alexander_rudnicky/6/