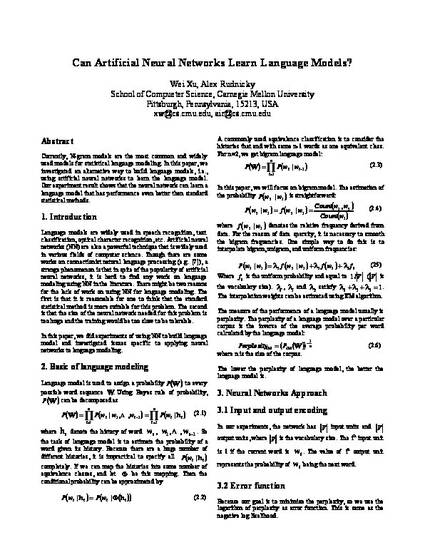 Article
Can Artificial Neural Networks Learn Language Models?
Computer Science Department
Date of Original Version
1-1-2000
Type
Conference Proceeding
Abstract or Description
Currently, N-gram models are the most common and widelyused models for statistical language modeling. In this paper, weinvestigated an alternative way to build language models, i.e.,using artificial neural networks to learn the language model.Our experiment result shows that the neural network can learn alanguage model that has performance even better than standardstatistical methods.
Citation Information
Wei Xu and Alexander I Rudnicky. "Can Artificial Neural Networks Learn Language Models?" (2000)
Available at: http://works.bepress.com/alexander_rudnicky/54/