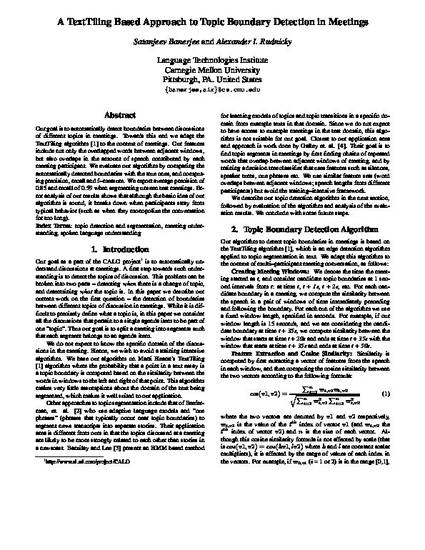 Article
A TextTiling Based Approach to Topic Boundary Detection in Meetings
Proceedings of the Interspeech – ICSLP 2006 Conference
Date of Original Version
1-1-2006
Type
Conference Proceeding
Abstract or Description
Our goal is to automatically detect boundaries between discussions of different topics in meetings. Towards this end we adapt the TextTiling algorithm [1] to the context of meetings. Our features include not only the overlapped words between adjacent windows, but also overlaps in the amount of speech contributed by each meeting participant. We evaluate our algorithm by comparing the automatically detected boundaries with the true ones, and computing precision, recall and f–measure. We report average precision of 0.85 and recall of 0.59 when segmenting unseen test meetings. Error analysis of our results shows that although the basic idea of our algorithm is sound, it breaks down when participants stray from typical behavior (such as when they monopolize the conversation for too long).
Citation Information
Satanjeev Banerjee and Alexander I Rudnicky. "A TextTiling Based Approach to Topic Boundary Detection in Meetings"
Proceedings of the Interspeech – ICSLP 2006 Conference
(2006)
Available at: http://works.bepress.com/alexander_rudnicky/50/