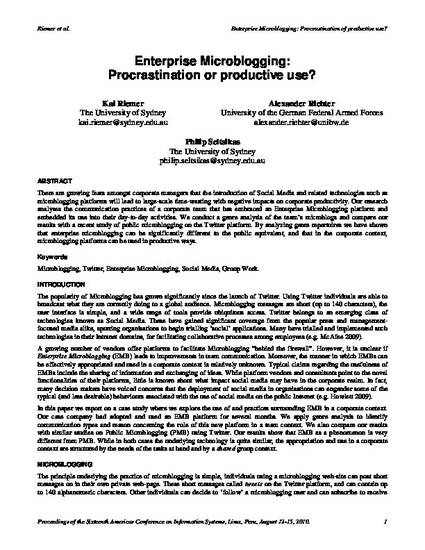 Article
Enterprise Microblogging: Procrastination or productive use?
AMCIS 2010 Proceedings
Publication Date
8-1-2010
Abstract
There are growing fears amongst corporate managers that the introduction of Social Media and related technologies such as microblogging platforms will lead to large-scale time-wasting with negative impacts on corporate productivity. Our research analyses the communication practices of a corporate team that has embraced an Enterprise Microblogging platform and embedded its use into their day-to-day activities. We conduct a genre analysis of the team's microblogs and compare our results with a recent study of public microblogging on the Twitter platform. By analyzing genre repertoires we have shown that enterprise microblogging can be significantly different to the public equivalent, and that in the corporate context, microblogging platforms can be used in productive ways.
Citation Information
Kai Riemer, Alexander Richter and Philip Seltsikas. "Enterprise Microblogging: Procrastination or productive use?" (2010)
Available at: http://works.bepress.com/alexander_richter/9/