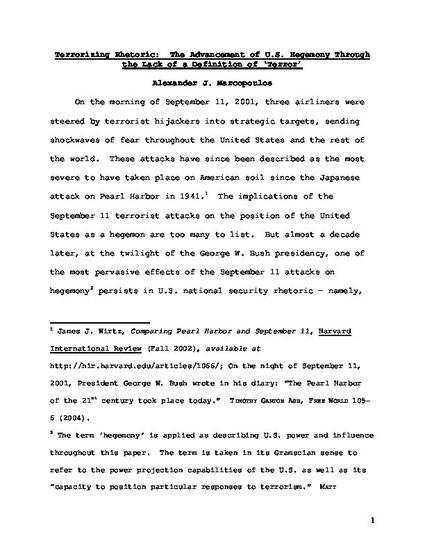 Unpublished Paper
Terrorizing Rhetoric: The Advancement of U.S. Hegemony Through the Lack of a Definition of 'Terror'
ExpressO (2009)
Abstract
As the usage of the word "terror" and its variants became increasingly universal in, and thus important to, foreign affairs post-September 11, the usage of the word has itself become a source of power. Specifically, the ability of certain nations such as the United States to invoke the word "terror" to justify their actions and persuade organizations and nations of the world to cooperate with them has given rise to a unique form of hegemony that warrants analysis outside of the traditional forms of hard power and soft power. This aim of this Paper is to analyze the implications on U.S. hegemony of the use of the word "terror" and its variants in the construction of U.S. policy. In examining the rhetoric of the U.S. War on Terror, this Paper will argue that U.S. definitions of "terror" have supercharged U.S. hegemony in the short term in a few key ways. First, this Paper examines the various U.S. definitions of terror and contrasts them with international definitions. In doing so, it demonstrates that both a lack of consensus on a definition and the trend in viewing "terror" as an act of war have afforded the U.S. much flexibility in pursuing an anti-terror policy that is self-serving and that provided the Bush Administration with the flexibility to allow the U.S. to proactively project its power. The argument then proceeds to a discussion of how the rhetoric of terrorism compares to the "red scare" rhetoric used during the Cold War in order to create an existential threat to justify U.S. policies. Finally, the Paper examines the sustainability of the U.S.'s use of terror rhetoric to bolster its hegemony – namely, whether the invocation of "terror" to justify unilateral policies is a sustainable enterprise in the post-Bush United States.
Keywords
national security,
foreign relations,
united nations,
terrorism
Publication Date
January 6, 2009
Citation Information
Alexander J. Marcopoulos. "Terrorizing Rhetoric: The Advancement of U.S. Hegemony Through the Lack of a Definition of 'Terror'"
ExpressO
(2009)
Available at: http://works.bepress.com/alexander_marcopoulos/1/