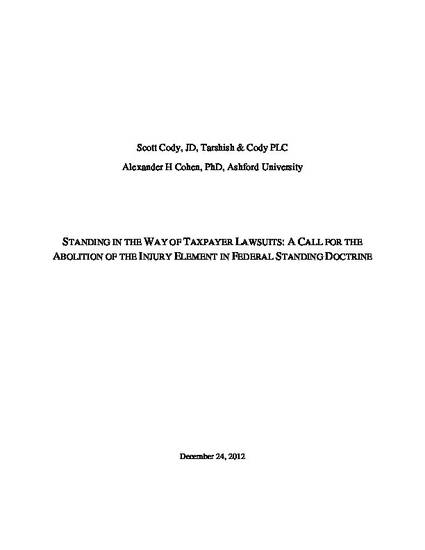 Unpublished Paper
Standing in the Way of Taxpayer Lawsuits: A Call for the Abolition of the Injury Element in Federa lStanding Doctrine
ExpressO (2012)
Abstract
For a case or controversy to exist in Article III courts, a plaintiff must have standing. This paper examines the first element of standing, injury, and asks: should a taxpayer's mental displeasure that the government is using tax dollars in an apparently unconstitutional manner be sufficient to constitute an injury warranting standing? If psychological dismay is not considered an "injury" for purposes of standing, then the elected branches of government are left largely unaccountable and free to violate many constitutional provisions with impunity. This paper argues that psychological injury should suffice to create standing in the federal courts. It considers Flast v. Cohen and the Hein decision, analyzes the inefficacy of the political process as a remedy for taxpayer dismay over constitutional violations, examines the intent of the Constitution's Framers as to the federal courts' role in checking constitutional violations by the elected branches, and addresses the problems of administrative inefficiency that could result from relaxed standing rules. This paper concludes that recognizing a taxpayer's mental dismay as a cognizable injury is the only way to check abuses of the Constitution by Congress and the President.
Publication Date
December 26, 2012
Citation Information
Scott Code and Alexander H Cohen. "Standing in the Way of Taxpayer Lawsuits: A Call for the Abolition of the Injury Element in Federa lStanding Doctrine"
ExpressO
(2012)
Available at: http://works.bepress.com/alexander_cohen/1/