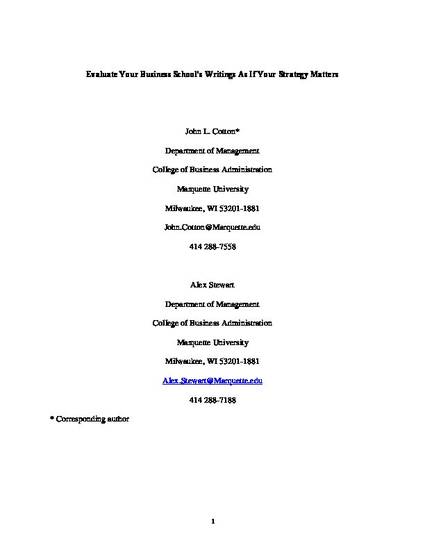 Article
Evaluate Your Business School's Writings As If Your Strategy Matters
Business Horizons
Publication Date
5-1-2013
Original Item ID
DOI: 10.1016/j.bushor.2013.01.010
Abstract
Business school publications are widely criticized for their lack of managerial or teaching relevance. One reason for this criticism is that business school scholarship is typically evaluated purely in terms of one type of work: academic journal articles that are meant to be read by other scholars. However, academics produce multiple types of publications, and business schools serve a wider range of stakeholders. These other stakeholders are often central to the schools' purposes and may be critical in acquiring resources. These stakeholders probably prefer to see scholarship that is relevant for students or for practitioners. They may prefer scholarship that is ethically relevant or regionally relevant and otherwise different from the model that dominates U.S. journals. Technologies are now available to measure the impact of writings in a much wider range of venues than covered by the Social Sciences Citation Index in the Web of Science. Moreover, a wider range of measures, such as the size of writings' readership, may be needed. We consider these issues and present some recommendations, arguing that faculty evaluations should follow an intentional strategy and not necessarily conform to the traditional default.
Citation Information
John Cotton and Alex Stewart. "Evaluate Your Business School's Writings As If Your Strategy Matters"
Business Horizons
(2013) ISSN: 0007-6813
Available at: http://works.bepress.com/alex_stewart/12/