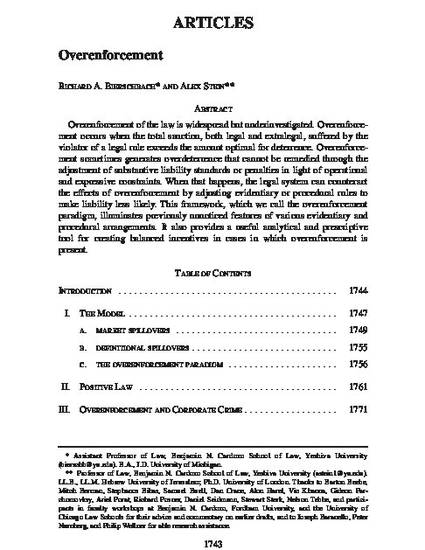 Article
Overenforcement
Georgetown Law Journal (2005)
Abstract
Overenforcement of the law is widespread, but underinvestigated. Overenforcement occurs when the total sanction suffered by the violator of a legal rule exceeds the amount optimal for deterrence. Overenforcement sometimes generates overdeterrence that cannot be remedied through the adjustment of substantive liability standards or penalties ex ante. When that happens, the legal system can counteract the effects of overenforcement by adjusting evidentiary or procedural rules to make liability less likely. This framework, which we call the overenforcement paradigm, illuminates previously unnoticed features of various evidentiary and procedural arrangements. It also provides a useful analytical and prescriptive tool for creating optimal incentives on the ground in cases in which overenforcement is present.
Citation Information
Alex Stein and Richard A. Bierschbach. "Overenforcement"
Georgetown Law Journal
Vol. 93 (2005)
Available at: http://works.bepress.com/alex_stein/5/