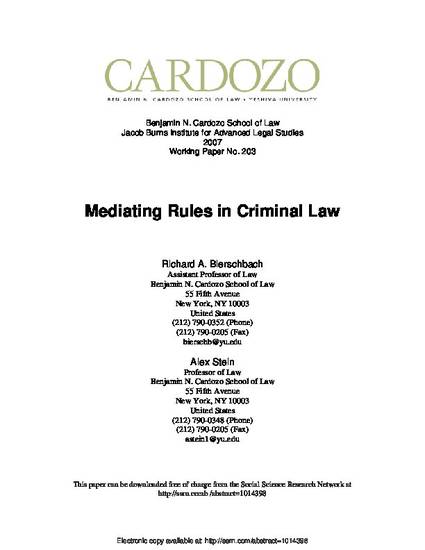 Article
Mediating Rules in Criminal Law
Virginia Law Review (2007)
Abstract
This Article challenges the conventional divide between substantive criminal law theory, on the one hand, and evidence law, on the other, by exposing an important and unrecognized function of evidence rules in criminal law. Throughout the criminal law, special rules of evidence work to mediate conflicts between criminal law's deterrence and retributivist goals. They do this by skewing errors in the actual application of the substantive criminal law to favor whichever theory has been disfavored by the substantive rule itself. The mediating potential of evidentiary rules is particularly strong in criminal law because the substantive law's dominant animating theories—deterrence and retributivism—respond asymmetrically to the workings of those rules. We analyze the features of "mediating rules," explore their effects across a range of substantive areas, and offer a tentative normative assessment of their role in a pluralistic criminal law system.
Citation Information
Alex Stein and Richard A. Bierschbach. "Mediating Rules in Criminal Law"
Virginia Law Review
Vol. 93 (2007)
Available at: http://works.bepress.com/alex_stein/4/