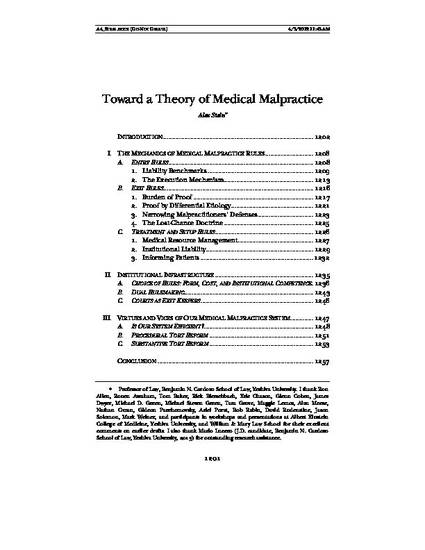 Article
Toward a Theory of Medical Malpractice
Iowa Law Review (2012)
Abstract
This Article introduces a novel methodology for understanding medical malpractice law and guiding its reform. I divide the legal rules that apply in medical malpractice cases into four basic categories: "entry rules," "exit rules," "treatment rules," and "setup rules." The first two of these categories of rules intersect with the other two categories. Our medical malpractice system thus consists of treatment-related and setup-related entry and exit rules.
Based on this taxonomy, I demonstrate how our medical malpractice system responds to two major concerns about legal rules: form and institutional competence. As far as form is concerned, our system systematically prefers articulated high-resolution rules over broad standards as a basis for courts' determinations of the adequacy of the medical treatment complained against by the plaintiff. The system resorts predominantly to broad standards as a basis for courts' assessments of whether medical care providers adequately set up the physical and informational conditions for their patient's treatment. Courts' decisions in these two areas determine whether the defendant—a doctor or other provider of medical care—will enter into liability for medical malpractice. For exits from that liability, the system fashions narrowly tailored rules, which it generally (but not always) prefers over standards.
As far as institutional competence is concerned, the system authorizes the medical profession to devise rules identifying medical errors that make a patient's treatment defective and actionable as malpractice (treatment-related entry rules). The system allows courts and the legislature, on one side, and the medical profession, on the other side, to design discrete components of the standards making doctors and other care providers responsible for setting up poor physical or informational conditions for treating patients (setup-related entry rules). Finally, the system gives courts a virtually exclusive power to formulate rules that allow a negligent care provider to escape liability for malpractice (treatment- and setup-related exit rules). Courts used this power to narrow malpractitioners' exits from liability in torts: negligent doctors and other defaulting care providers normally cannot disassociate themselves from the aggrieved patient's damage.
This interplay of rules and rulemaking powers pervasively affects our medical malpractice system: it narrows care providers' liability for treatment-related malpractice; it expands care providers' liability for setup-related malpractice; and it narrows negligent care providers' ability to avoid the duty to compensate the aggrieved patient. The Article demonstrates that this system is both fair and efficient and criticizes tort reforms that reduce liability for malpractice.
Keywords
medical malpractice,
rule-making,
tort reform,
causation,
lost chance
Citation Information
Alex Stein. "Toward a Theory of Medical Malpractice"
Iowa Law Review
Vol. 97 (2012)
Available at: http://works.bepress.com/alex_stein/22/