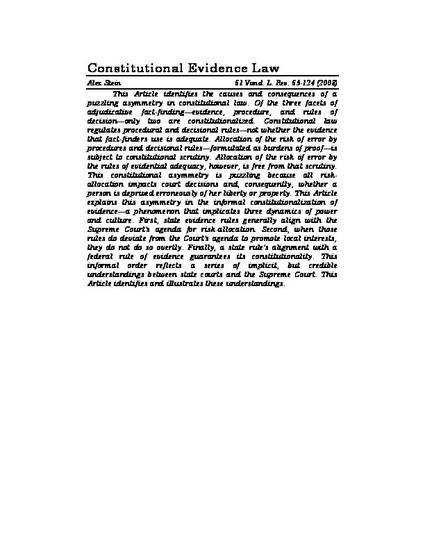 Article
Constitutional Evidence Law
Vanderbilt Law Review (2008)
Abstract
This Article identifies the causes and consequences of a puzzling asymmetry in constitutional law. Of the three facets of adjudicative fact-finding—evidence, procedure, and rules of decision—only two are constitutionalized. Constitutional law regulates procedural and decisional rules—not whether the evidence that fact-finders use is adequate. Allocation of the risk of error by procedures and decisional rules—formulated as burdens of proof—is subject to constitutional scrutiny. Allocation of the risk of error by the rules of evidential adequacy, however, is free from that scrutiny. This constitutional asymmetry is puzzling because all risk-allocation impacts court decisions and, consequently, whether a person is deprived erroneously of her liberty or property. This Article explains this asymmetry in the informal constitutionalization of evidence—a phenomenon that implicates three dynamics of power and culture. First, state evidence rules generally align with the Supreme Court's agenda for risk-allocation. Second, when those rules do deviate from the Court's agenda to promote local interests, they do not do so overtly. Finally, a state rule's alignment with a federal rule of evidence guarantees its constitutionality. This informal order reflects a series of implicit, but credible understandings between state courts and the Supreme Court. This Article identifies and illustrates these understandings.
Citation Information
Alex Stein. "Constitutional Evidence Law"
Vanderbilt Law Review
Vol. 61 (2008)
Available at: http://works.bepress.com/alex_stein/2/