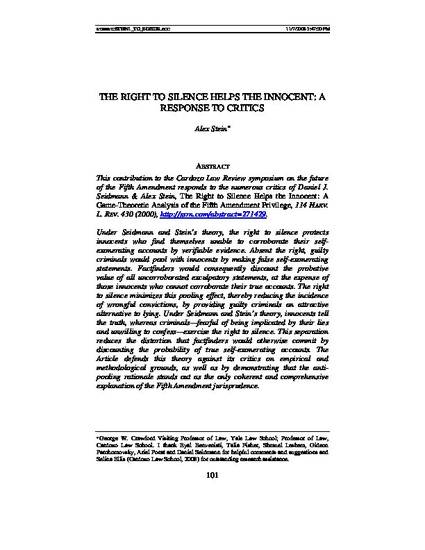 Article
THE RIGHT TO SILENCE HELPS THE INNOCENT: A RESPONSE TO CRITICS
Cardozo Law Review (2008)
Abstract
This contribution to the Cardozo Law Review symposium on the future of the Fifth Amendment responds to the numerous critics of Daniel J. Seidmann & Alex Stein, The Right to Silence Helps the Innocent: A Game-Theoretic Analysis of the Fifth Amendment Privilege, 114 HARV. L. REV. 430 (2000).
Under Seidmann and Stein's theory, the right to silence protects innocents who find themselves unable to corroborate their self-exonerating accounts by verifiable evidence. Absent the right, guilty criminals would pool with innocents by making false self-exonerating statements. Factfinders would consequently discount the probative value of all uncorroborated exculpatory statements, at the expense of those innocents who cannot corroborate their true accounts. The right to silence minimizes this pooling effect, thereby reducing the incidence of wrongful convictions, by providing guilty criminals an attractive alternative to lying. Under Seidmann and Stein's theory, innocents tell the truth, whereas criminals—fearful of being implicated by their lies and unwilling to confess—exercise the right to silence. This separation reduces the distortion that factfinders would otherwise commit by discounting the probability of true self-exonerating accounts. The Article defends this theory against its critics on empirical and methodological grounds, as well as by demonstrating that the anti-pooling rationale stands out as the only coherent and comprehensive explanation of the Fifth Amendment jurisprudence.
Keywords
right to silence,
self-incrimination,
Fifth Amendment,
game theory,
pooling equilibrium,
sepatating equilibrium
Citation Information
Alex Stein. "THE RIGHT TO SILENCE HELPS THE INNOCENT: A RESPONSE TO CRITICS"
Cardozo Law Review
Vol. 30 Iss. 1 (2008)
Available at: http://works.bepress.com/alex_stein/12/