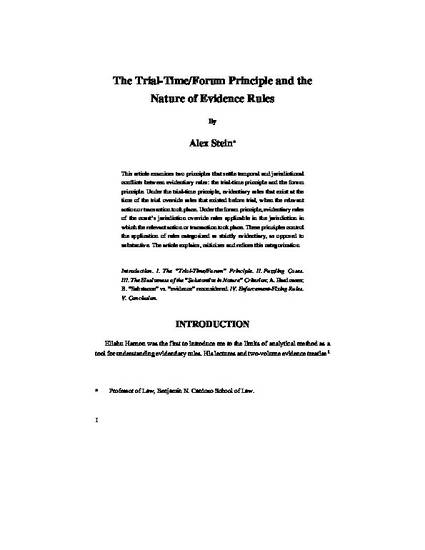 Article
The Trial-Time/Forum Principle and the Nature of Evidence Rules
Current Trends in Criminal Procedure and Evidence—A Collection of Essays in Honor of Professor Eliahu Harnon (Anat Horovitz & Mordechai Kremnitzer, eds.) (2008)
Abstract
This Article examines two principles that settle temporal and jurisdictional conflicts between evidentiary rules: the trial-time principle and the forum principle. Under the trial-time principle, evidentiary rules that exist at the time of the trial override rules that existed before trial when the relevant action or transaction took place. Under the forum principle, evidentiary rules of the court's jurisdiction override rules applicable in the jurisdiction in which the relevant action or transaction took place. These principles control the application of rules categorized as strictly evidentiary, as opposed to substantive. The Article explains, criticizes and refines this categorization.
Citation Information
Alex Stein. "The Trial-Time/Forum Principle and the Nature of Evidence Rules"
Current Trends in Criminal Procedure and Evidence—A Collection of Essays in Honor of Professor Eliahu Harnon (Anat Horovitz & Mordechai Kremnitzer, eds.)
(2008)
Available at: http://works.bepress.com/alex_stein/10/