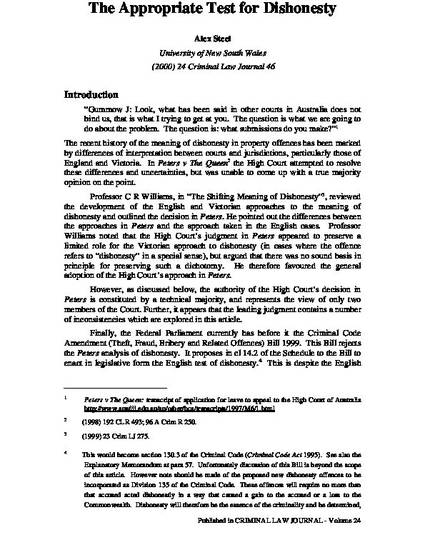 Article
An appropriate test for dishonesty?
Criminal Law Journal (2000)
Abstract
Courts have struggled to develop a test for dishonesty in both England and Australia. The English test as set out in Ghosh was considered by the Australian High Court in Peters v. The Queen but the court was unable to come up with a true majority opinion on the point. Differences of opinion on the meaning of the concept exist in Australian and English law, and a recent Consultation Paper by the Law Reform Commission of England and Wales has again raised the issue. This article reviews the different positions, and attempts to point a way forward for Australian law following the decision in Peters.
Keywords
dishonesty,
theft,
Ghosh test,
ordinary person
Citation Information
Alex Steel. "An appropriate test for dishonesty?" (2000) 24 Criminal Law Journal 46. Available at: http://works.bepress.com/alex_steel/4