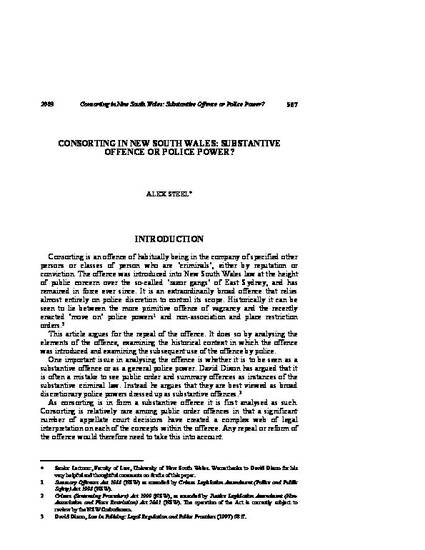 Article
Consorting in New South Wales: Substantive Offence or Police Power?
University of New South Wales Law Journal (2003)
Abstract
Since 1929 it has been an offence in New South Wales to habitually consort with reputed/convicted criminals. This article outlines the fears over so-called razor gangs that led to the offence's introduction and the role of the media in promoting the enactment of the offence. A detailed examination of the scope of the various elements of the offence, as defined by the courts is also provided. The paper also examines the historical and current use of the offence by police, and the degree of discretion involved in enforcement. The breadth of the offence is such that it effectively amounts to a police power rather than a standard criminal offence. The article argues that the lack of any external accountability of police use of this power is a strong reason to remove consorting from the statute books.
Keywords
consorting,
public order offences,
vagrancy,
police powers,
moral panic,
media reporting of crime,
razor gangs
Citation Information
Alex Steel. "Consorting in New South Wales: Substantive Offence or Police Power?" (2003) 26 University of New South Wales Law Journal 567-602. Available at: http://works.bepress.com/alex_steel/3