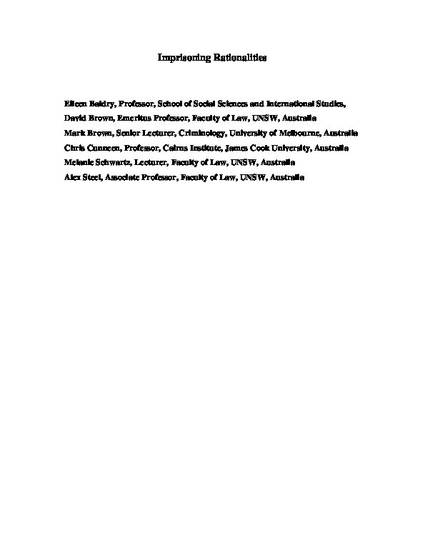 Article
Imprisoning Rationalities
Australian and New Zealand Journal of Criminology (2011)
Abstract
Imprisonment is a growth industry in Australia. Over the past 30-40 years all state and territory jurisdictions have registered massive rises in both the absolute numbers of those imprisoned and the per capita use of imprisonment as a tool of punishment and control. Yet over this period there has been surprisingly little criminological attention to the national picture of imprisonment in Australia and to understanding jurisdictional variation, change and continuity in broader theoretical terms. This article reports initial findings from the Australian Prisons Project, a multi-investigator Australian Research Council funded project intended to trace penal developments in Australia since about 1970. The article begins by outlining the notion of penal culture that provides the analytic lens for the project. It outlines various intersecting areas of study being undertaken before focusing on just three features of the contemporary penal field – restrictions upon presumptions of bail, the rise of post-sentence indefinite detention and the role of supermax confinement. Each in their own way exemplifies an aspect of and contributes to what we conclude to be the revalorisation of the prison in Australian culture and society.
Keywords
imprisonment,
australia,
puntiveness,
penality
Citation Information
Eileen Baldry, David Brown, Mark Brown, Chris Cunneen, et al.. "Imprisoning Rationalities"
Australian and New Zealand Journal of Criminology
Vol. 44 Iss. 1 (2011)
Available at: http://works.bepress.com/alex_steel/22/