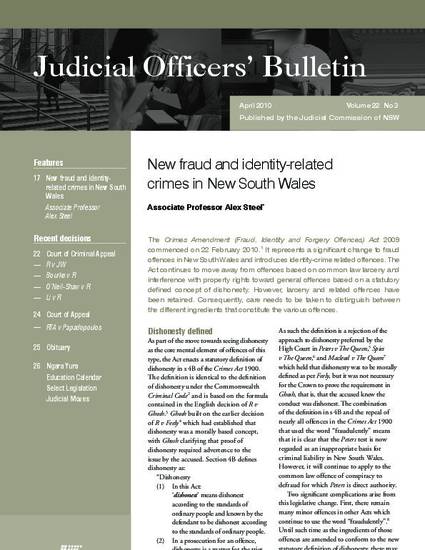 Article
New fraud and identity-related crimes in New South Wales
Judicial Officers Bulletin (2010)
Abstract
The Crimes Amendment (Fraud, Identity and Forgery Offences) Act 2009 commenced on 22 February 2010. It represents a significant change to fraud offences in New South Wales. The Act codifies dishonesty in line with the Ghosh test, replaces over 30 fraud offences with one main offence based on deceptively obtaining financial advantage, rewords the forgery offences and introduces a suite of identity crime offences. The Act continues to move away from offences based on common law larceny and interference with property rights toward general offences based on a statutory defined concept of dishonesty. However, larceny and related offences have been retained. Consequently, care needs to be taken to distinguish between the different ingredients that constitute the various offences. This article provides an analysis of those changes.
Keywords
fraud,
forgery,
identity theft,
law reform,
NSW,
dishonesty
Citation Information
Alex Steel. "New fraud and identity-related crimes in New South Wales"
Judicial Officers Bulletin
Vol. 22 Iss. 3 (2010)
Available at: http://works.bepress.com/alex_steel/19/