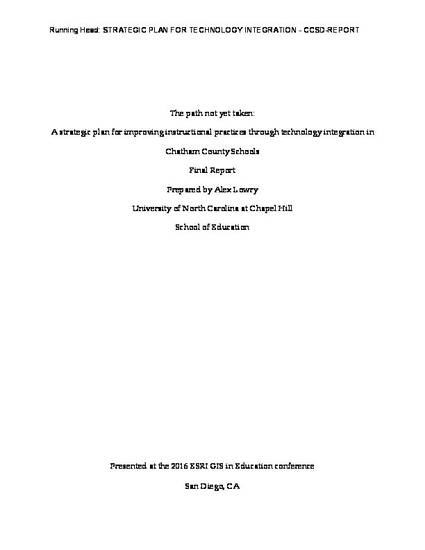 Presentation
The path not taken: A plan for equitable technology integration in Chatham County Schools (NC)
ESRI GIS in Education conference (2016)
Abstract
White paper on equitable technology integration in schools accepted for presentation at the ESRI 2016 GIS in Education Conference (a subset of the 2016 ESRI User Conference). The paper utilized GIS in order to present the current demographic situation in Chatham County Schools (North Carolina) in arguing for a more equitable approach to ICT integration.
Keywords
ICT,
GIS,
technology integration
Publication Date
Summer June 26, 2016
Citation Information
Lowry, A. G. (2016). The path not taken: A plan for equitable technology integration in Chatham County Schools (NC). 2016 ESRI GIS in Education conference. San Diego, CA.
Creative Commons License
This work is licensed under a Creative Commons CC_BY-NC-ND International License.