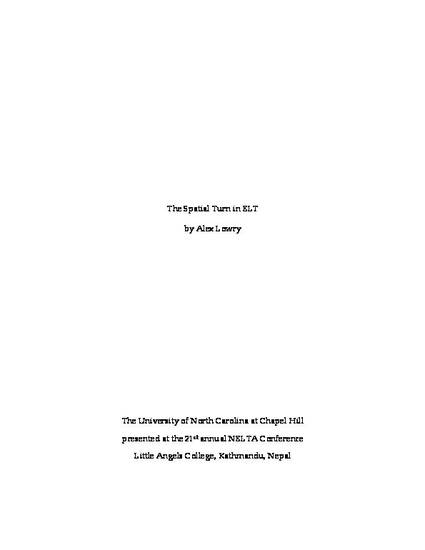 Presentation
Spatial Turn in ELT
21st International conference of NELTA (2016)
Abstract
This paper is based on Paivio's dual coding theory (DCT) and attempts to connect the theory to the practice of English language teaching (ELT). The paper focuses on three areas of impact: memory, understanding and tools/extension.
Keywords
spatial processing,
DCT,
spatial pedagogy,
mediating tools,
cognitive extension,
SLA,
ELT
Publication Date
Spring March 7, 2016
Citation Information
Lowry, A. G. (2016). The Spatial Turn in ELT. 21st Annual NELTA conference. Kathmandu, Nepal.
Creative Commons License
This work is licensed under a Creative Commons CC_BY-NC-ND International License.