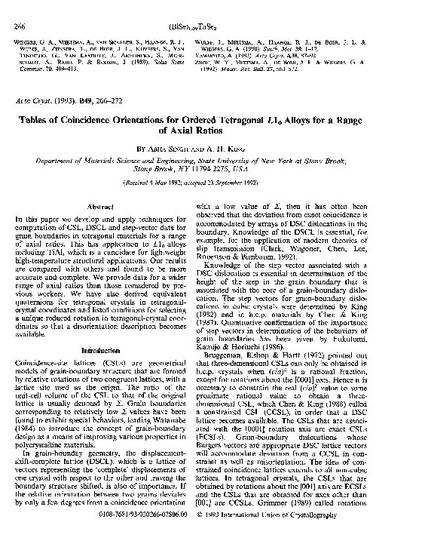 Article
Tables of Coincidence Orientations for Ordered Tetragonal L lo Alloys for a Range of Axial Ratios
Acta Crystallographica (1993)
Abstract
In this paper we develop and apply techniques for computation of CSL, DSCL and step-vector data for grain boundaries in tetragonal materials for a range of axial ratios. This has application to L10 alloys including TiA1, which is a candidate for lightweight high-temperature structural applications. Our results are compared with others and found to be more accurate and complete. We provide data for a wider range of axial ratios than those considered by previous workers. We have also derived equivalent quaternions for tetragonal crystals in tetragonal-crystal coordinates and listed conditions for selecting a unique reduced rotation in tetragonal-crystal coordinates so that a disorientation description becomes available.
Citation Information
Abha Singh and Alexander H. King. "Tables of Coincidence Orientations for Ordered Tetragonal L lo Alloys for a Range of Axial Ratios"
Acta Crystallographica
Vol. B49 (1993)
Available at: http://works.bepress.com/alex_king/36/