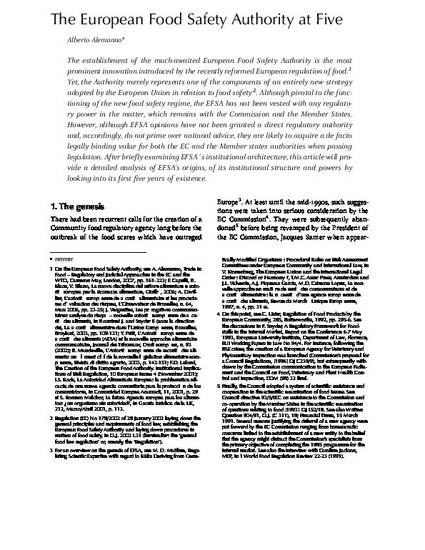 Article
The European Food Safety Authority at Five
European Food and Feed Law Review (2008)
Abstract
The establishment of the much-awaited European Food Safety Authority is the most prominent innovation introduced by the recently reformed European regulation of food . Yet, the Authority merely represents one of the components of an entirely new strategy adopted by the European Union in relation to food safety . Although pivotal to the functioning of the new food safety regime, the EFSA has not been vested with any regulatory power in the matter, which remains with the Commission and the Member States. However, although EFSA opinions have not been granted a direct regulatory authority and, accordingly, do not prime over national advice, they are likely to acquire a de facto legally binding value for both the EC and the Member states authorities when passing legislation. After briefly examining EFSA´s institutional architecture, this article will provide a detailed analysis of EFSA's origins, of its institutional structure and powers by looking into its first five years of existence.
Keywords
European Law - Food Law - EFSA - FDA
Publication Date
Winter 2008
Citation Information
alberto alemanno. "The European Food Safety Authority at Five"
European Food and Feed Law Review
Iss. 1/2008 (2008)
Available at: http://works.bepress.com/alemanno/3/