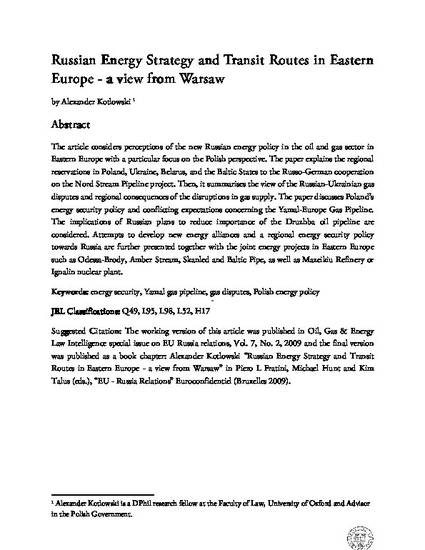 Article
Russian Energy Strategy and Transit Routes in Eastern Europe
Oil, Gas & Energy Law: special issue on EU - Russia relations (2009)
Abstract
The article considers perceptions of the new Russian energy policy in Eastern Europe with a particular focus on the Polish perspective. It explains the regional reservations to Russo-German cooperation on the Nord Stream Pipeline project. Then, it summarises the view of the Russian-Ukrainian gas disputes. The paper discusses Poland's energy security policy and conflicting expectations concerning the Yamal-Europe Gas Pipeline. Attempts to develop new energy alliances and a regional energy security policy towards Russia are further presented together with the joint energy projects in Eastern Europe such as Odessa-Brody, Amber Stream, Skanled and Baltic Pipe, as well as Mazeikiu Refinery or Ignalin nuclear plant.
Keywords
Russian energy policy,
security of supply,
gas pipelines,
Yamal-Europe pipeline,
Poland's energy policy
Publication Date
May, 2009
Citation Information
Aleksander Kotlowski "Russian Energy Strategy and Transit Routes in Eastern Europe"
Oil, Gas & Energy Law: special issue on EU - Russia relations
vol 7 issue 2 (2009)